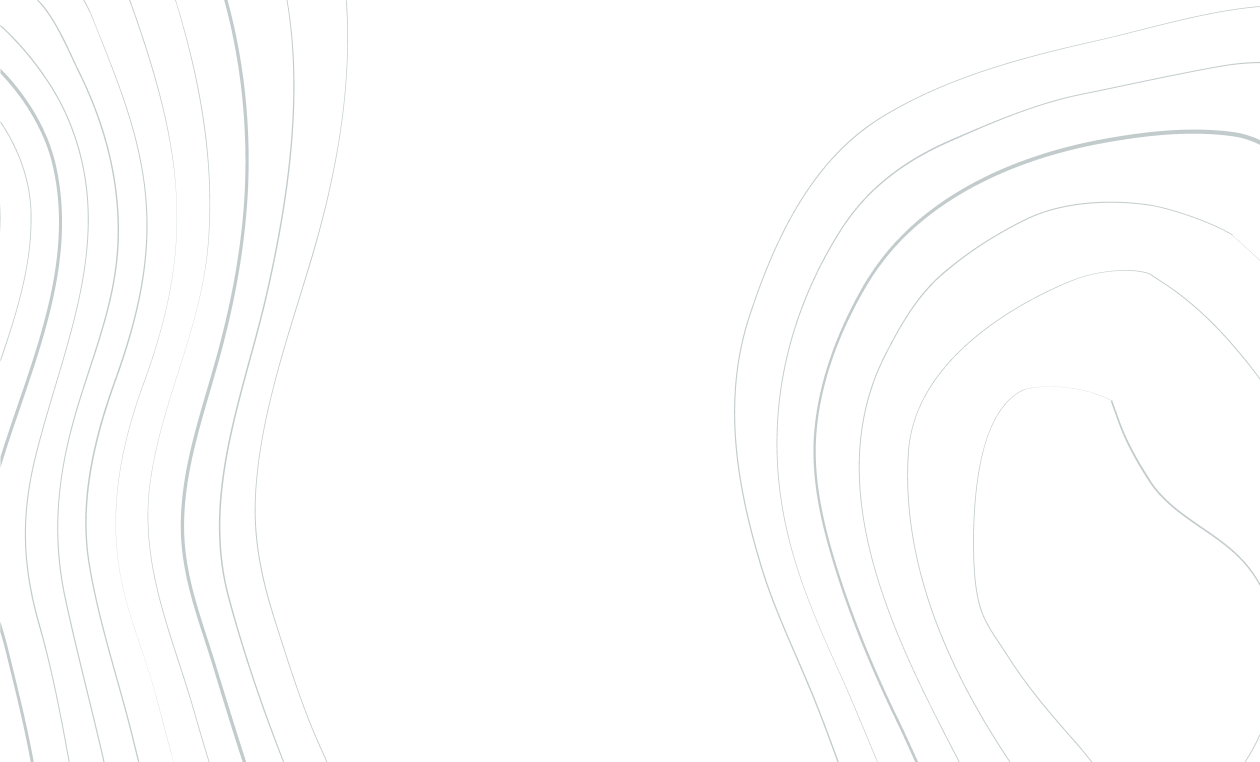 Before continuing...
You live at Miramar la cigale
You stay at Miramar la cigale
You do not stay at Miramar la cigale
Our qualified and passionate staff is attentive to your every wish. We focus on personalising our services to meet your expectations.
BECAUSE AT MIRAMAR LA CIGALE YOUR COMFORT IS OUR PRIORITY, WE DO EVERYTHING POSSIBLE TO MEET YOUR EXPECTATIONS.
ALL THE STAFF OF OUR THALASSO & SPA HOTEL ARE AT YOUR SERVICE.
At the Miramar La Cigale, Hotel with Spa, we focus on personalising our services and our thalasso treatments, to always better meet your expectations.
To make your stay in Southern Brittany a pleasant and unforgettable moment, your hotel with spa offers you a wide range of services in a dream setting for an enchanted break.
"Our goal: to meet our customers' desires!"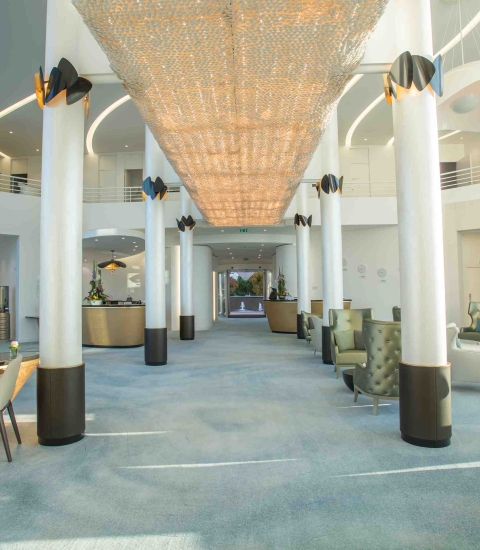 With their perfect knowledge of Southern Brittany, Stéphane, our chef concierge and his team will guide you in your choices and propose a range of activities adapted to your desires.
Whether you want to book a shuttle, a dinner in a prestigious restaurant or a private excursion to an island in the Gulf of Morbihan, our concierge service is available from 7am to 9.30pm, 7 days a week.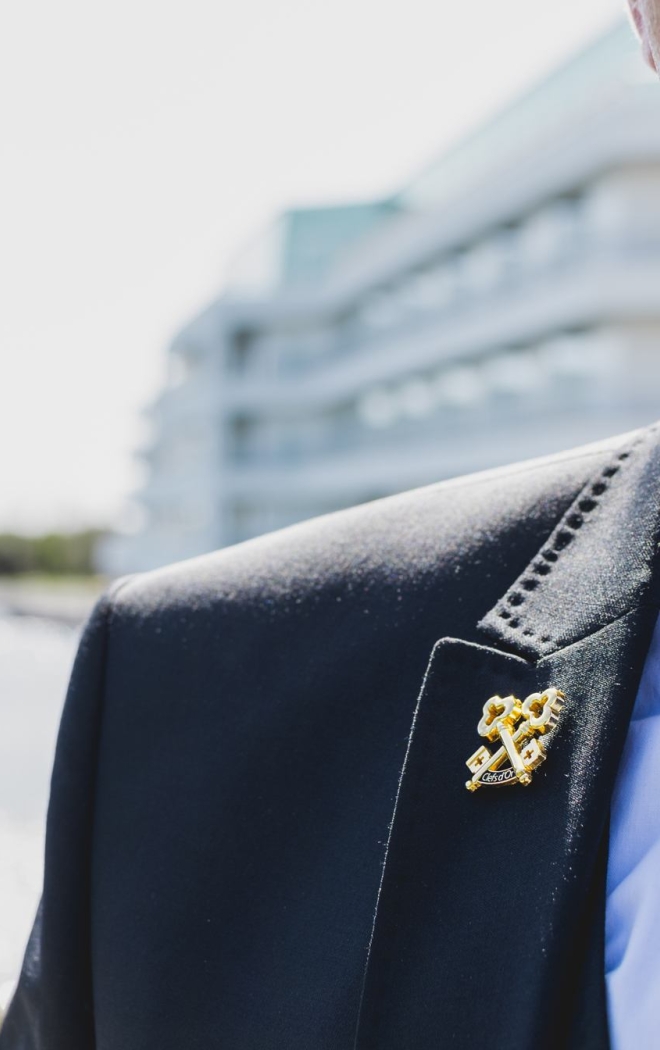 "Petits Mousses" for Kids
Service
SO THAT YOU CAN ENJOY YOUR WELL-BEING TREATMENTS IN COMPLETE TRANQUILLITY AT MIRAMAR LA CIGALE, WE WELCOME YOUR CHILDREN TO THE "LES PETITS MOUSSES" NURSERY.
In a cocooning space adapted to toddlers, right next to the Espace Thalasso, Amélie, our early childhood educator, welcomes your children from 3 months to 3 years old every day of the year.
In order to offer a secure environment, we welcome a maximum of 3 children at any one time, so it is recommended that you book your childcare as soon as possible with our services.
During your thalasso stay at Miramar La Cigale, we recommend that you bring your child's vaccination record or a medical certificate stating that your child can attend a group of children.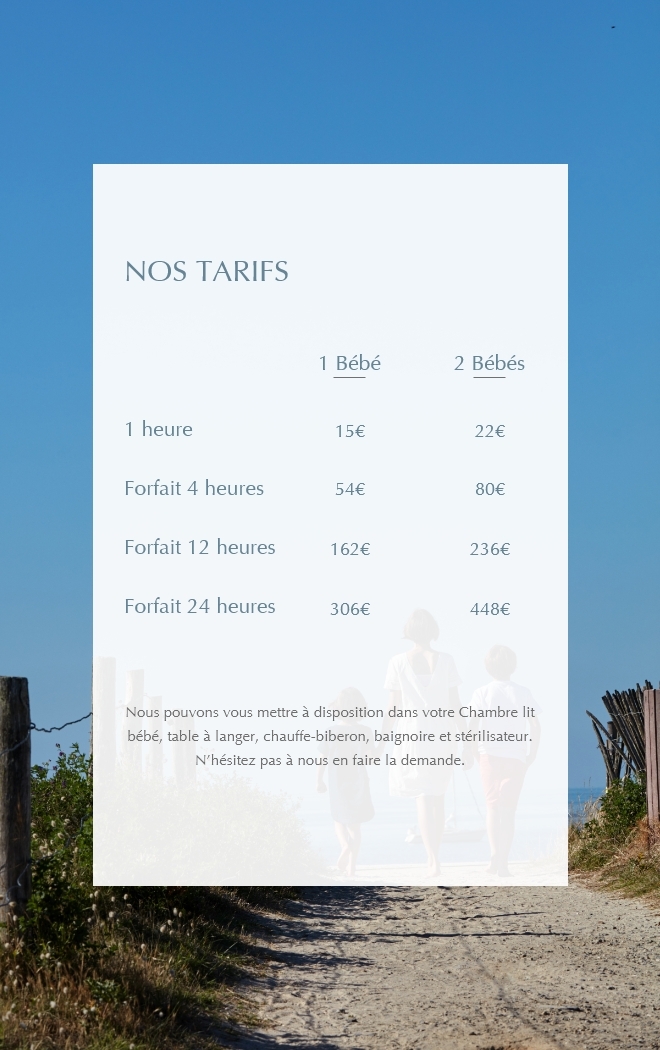 Would you like a touch of romance on your arrival at our Spa Thalasso hotel, to organise a surprise for a birthday, a VIP welcome or simply to treat yourself in our thalasso centre conducive to relaxation of the body and serenity of the mind ?
If you wish to please your partner or surprise one of your clients, our team can organise the personalised and authentic welcome you desire:
Bottle of Champagne or 1/2 bottle in your room
Bouquet of fresh flowers in your room
Basket of seasonal fruit in your room
Gourmet plate of land and sea to be tasted at the restaurant Le Safran
Menu for your pet (150g portion) in your room
We will welcome you in all authenticity in our Spa Thalasso hotel in Southern Brittany.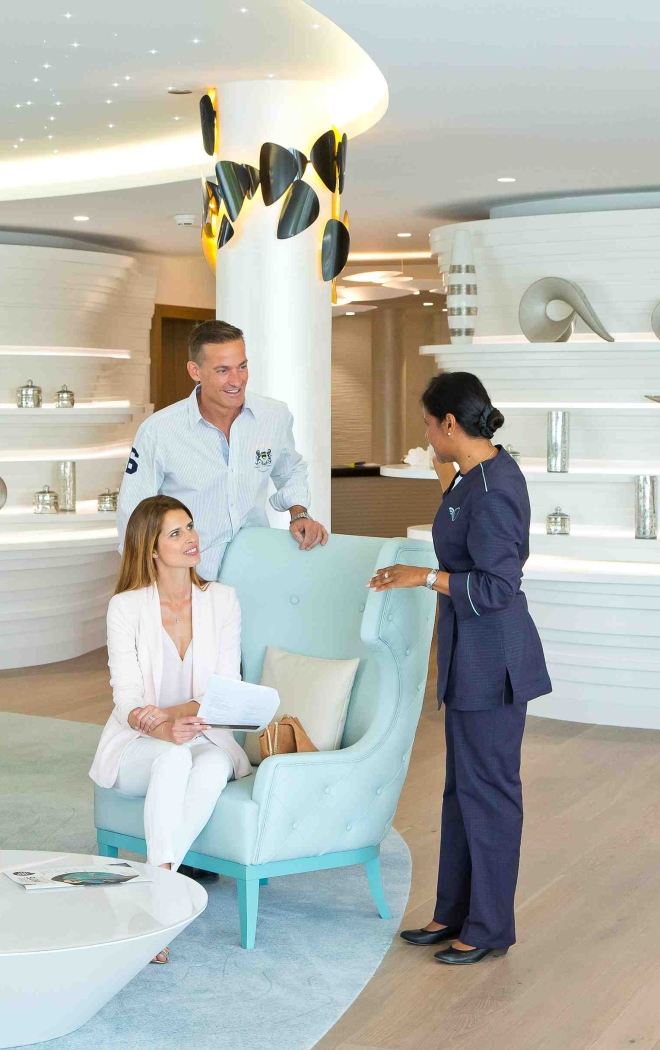 IN ORDER TO FACILITATE YOUR TRAVELS, OUR SHUTTLE SERVICE GUARANTEES YOU AN EXCEPTIONAL SERVICE TO FACILITATE YOUR ACCESS TO THE MIRAMAR LA CIGALE BY ENSURING THE TRANSFERS OF DEPARTURE OR ARRIVAL AT THE AIRPORT OF NANTES OR THE STATION OF VANNES.
VANNES STATION
Every day, a free collective shuttle to our thalassotherapy centre and Vannes train station is at your disposal.
Please confirm your free shuttle 48 hours in advance with the reservations department.
NANTES AIRPORT
Transfers from the airport are provided by our concierge service or by an individual taxi.
AVAILABLE AT MIRAMAR LA CIGALE
Covered parking :
15€ per day
80€ for 6 days
12€ per additional day
Electric car charging: 13€ for one day
Bike rental :
{{ day[dayKey] }}
{{ day[dayInformations].discount.perc }}
{{ day[dayInformations].discount.originalPrice }}€
{{ day[dayInformations].specialOffer.originalPrice }}€
Special offer
{{ day[dayInformations].specialOffer.title }}
{{ day[dayInformations].specialOffer.description }}
from
{{ day[dayInformations].price }}€
the room
per person
{{ totalPerc }}
{{ totalReducPrice }}€
{{ day[dayInformations].discount.perc }}
{{ day[dayInformations].discount.originalPrice }}€
{{ day[dayInformations].specialOffer.originalPrice }}€
from
{{ totalPrice }}€
{{ day[dayInformations].price }}€
the room
per person
departure on
{{ day[dayKey] + "/" + day[dayMonth] }}
Your selection :
from
{{ totalPrice }}€
the room
per person
departure on {{ departure }}
Special offers included :
Special offer
{{ offer.title }}
{{ offer.description }}